Oral Health
The Oral Health Program accomplishes all phases of general dentistry by utilizing a combination of portable and fixed operations. Oral health screenings and hands on educational sessions are provided through our school based outreach program to second and sixth graders at designated schools. Students participating in school screenings are eligible for treatment and or referrals by the Oral Health Program.
The Oral Health Program of Hui No Ke Ola Pono was created to improve access to dental care, provide education, and evaluate and treat the under served residents in remote areas on the island of Maui. Our services are limited to clients living in the areas from Ke'anae to Häna, Kahakuloa and active clients of Hui No Ke Ola Pono upon interdepartmental referral.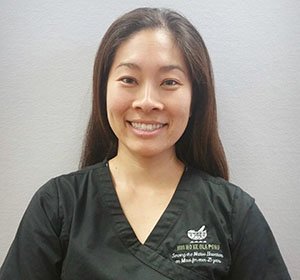 Dr. Emi Eno Orikasa
Dr. Emi Eno Orikasa was born in Southern California, raised on Maui, and a graduate of Baldwin High School.  From a young age, dentistry had always been her career goal.  She obtained both her Bachelors of Science and Doctor of Dental Surgery degrees from the University of the Pacific.  Upon graduating from dental school, she returned home to practice with her uncle in Upcountry Maui.  After almost 10 years in private practice, Emi joined Hui No Ke Ola Pono as the oral health director.  She values the whole health concept that Hui No Ke Ola Pono fosters, which allows clients to not only address their oral health, but also their overall health concerns in one place.  In her free time, Emi enjoys spending time with her family, going to the beach, and traveling.
Hillary Vidinhar
Hillary was born on Oahu and raised in Utah. After High School she returned to Maui, where she attended UHMC and earned her AS in Dental Hygiene. Although fairly new to the profession, she is eager to continue to learn and grow. She is excited for the opportunity to work within the community, and help the people of Maui. In her spare time she enjoys going to the beach, shopping, and spending time with family and friends.
Shanelle Gomes
Shanelle was born and raised on Maui. Grew up in Makawao and graduated from King Kekaulike High School. She attended UHMC and graduated from the Dental Assisting Program in 2013 as a Certified Dental Assistant. Shanelle enjoys working at Hui No Ke Ola Pono because we get to offer services to the community that they might not be able to afford elsewhere. On her free time she enjoys going fishing, hunting, traveling, and spending time with her family.
Kellyn Fuller
Kellyn was born and raised in Idaho, and moved to Maui in 2016 after completing her bachelor's degree in Dental Hygiene at Idaho State University. She is passionate about community oral health and loves helping the underserved populations on Maui through the Virtual Dental Home project at the Hui No Ke Ola Pono. She strives to educate and help her patients achieve optimal oral health both in private practice and in the outreach setting. In her spare time Kellyn enjoys surfing, hiking and going to the beach!
E Komo Mai
Your health starts with you. If you are interested in any of our services,
learn how you can make an appointment. We look forward in serving you.
Mahalo